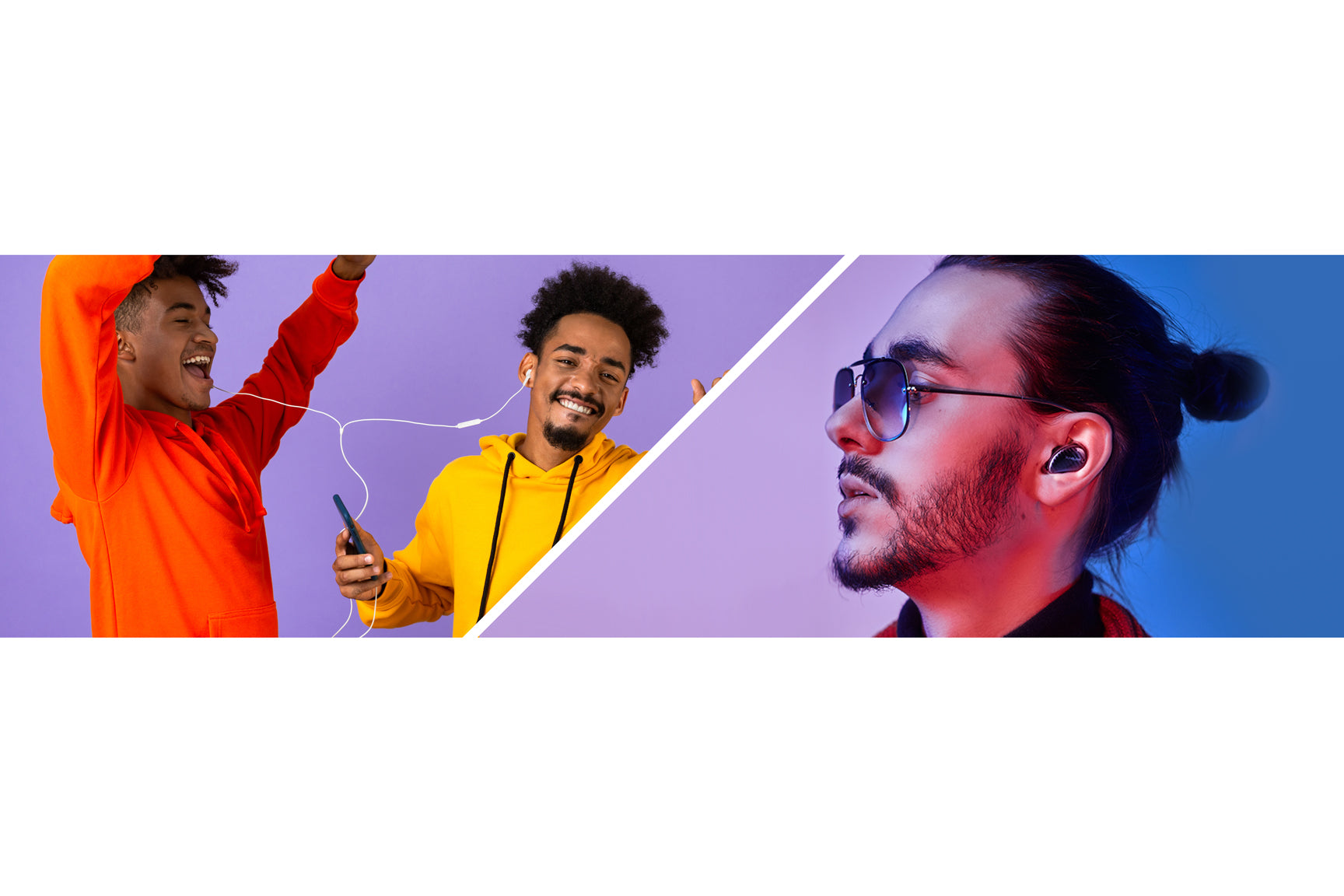 Wired earphones or TWS earbuds? What's the difference?
You might be torn between buying a wired earphones or TWS earbuds. Well, this has been an ongoing debate for a while without any signs of ending anytime soon. Let's be realistic! Choosing between wired earphones and TWS earbuds can be difficult. Lifestyle is one of the significant determinants of the kind of earphones you will buy. For example, someone streaming music on their computer will likely select the wired earphones. On the other hand, people who want to listen to music during workouts will probably go for the TWS earbuds. There are also other factors to consider like price, work, comfort, and quality.
Both TWS earbuds and wired earphones are compatible with a range of devices. TWS earbuds connect to devices via Bluetooth, while the wired earphones connect with devices via a 3.5mm jack.
Before we discuss some of the pros and cons of both wired earphones and TWS earbuds, let's look at lifestyles most suitable for either the wired earphones or TWS earbuds.
Best lifestyle for wired earphones:
Desk Jockeys: Wired earphones are best for people who work at a desk for a long time. For example, wired earphones are perfect for office workers who want to listen to music via their computer or phone.
Transcribers: Wired earphones are ideal for people in a transcribing career. Wired earphones have the best sound quality hence making it easier for the transcribers.
Travelers: An excellent wired earphone is ideal for travelers. With wired earphones, the traveler will not worry about charging the battery.
The best lifestyle for TWS earbuds: 
Athletes:  Are you tired of getting tangled during your workouts? Well, TWS earbuds are the best solution for you. You can perform any activity from lifting weights to running on a treadmill while listening to your favorite music, thanks to TWS earbuds.
Gamers: Thanks to TWS earbuds, gamers can become part of their action in any video game. With wireless earphones, the gamer doesn't need to be so close to the TV.
Pros of Wired Earphones
Terrific sound
No latency 
No batteries required
Simple to use: Plug your earphones into the audio jack, and you are good to go.
Cons of Wired Earphones
Theentangling wires are a nuisance
They keep you tethered to your device
Pros of TWS earbuds
Increased convenience with not having to deal with long wires/cables
You can move around freely without worrying about yanking the audio jack out of its socket
Bluetooth compatibility: You can connect with any device that is Bluetooth enabled effortlessly.
Cons of TWS earbuds
Audio quality: Some true wireless earbuds have inferior sound quality as compared to wired earphones.  
Battery life: TWS earbuds are constrained by battery life, which varies depending on the quality. With wired earphones, battery life is not an issue. Additionally, some airports do not allow TWS earbud charge case on board.
Price: TWS earbuds are more expensive than wired earphones, but this depends on the earphone's quality.
Delay: TWS earbuds might delay to respond.
Adaptation issues: At times, TWS earbuds exhibit adaptation problems. For example, the way they adapt Android phones is not always the way they adapt to iPhones.
It is difficult to find TWS earbuds when you lose them.
Why it's important to have one pair of wired earphones for backup?
While it is true that TWS earbuds offer more convenience, they do not offer the quality of sound that wired earphones offer, especially when they are low on charge. For those who rather enjoy better sound quality without latency, a strong connection without power out, wired earphones are highly recommended. Good earphones will come in handy include those times when you need to listen to media over long periods, and when you are traveling through airports that do not allow you to board the plane with the charging case.

Therefore, i'd be happy to introduce PALOVUE earphones to you. MFi certified lightning connector provides a safe and plug-play experience. The MEMS controller with a built-in mic will help you make clear calls and achieve multiple controls like wake up Siri, pause/play music, last track/next track. Customized dynamic driver in each ear, that has been tuned for crisper mids and deeper bass. What else should we focus on? Durability and Comfortability! Every pair of PALOVUE earphones has a 30000+ bend lifespan and 3 size ear tips, perfectly fit in different ears. Please click here to see more information.


"What if i want a wireless lifestyle without the cons?"
You mustn't miss this brand new iSound which will amaze you without any cons you have read above.
Qualcomm CSR & BLUETOOTH 5.0: The latest Bluetooth 5.0 and Qualcomm chipset QCC3020 technology provides a fast, stable and crystal clear connection, aptX HD sound quality transmission, and longer battery life & range (up to 32.8 feet). You will hardly feel the latency even playing phone games.
Dual Mic & CVC 8.0 Algorithm. CVC 8.0 Noise Cancelling technology effectively reduce the external noise and enjoy the calling immersive sound everywhere and anytime with outstanding clarity even in a loud environment
Ergonomic Design & 5 Sizes Ear-tips. Designed with human cochlea structure and 5 pairs of gel-flexible silicone ear-caps ensure iSound fit comfortably and entirely to your ears, no hurts even for long time use.
One-step Reconnection & One-touch Operation. Just open the charging case and they will automatically connect to your phone (after being paired the first time) and can manage audio playback & calls with the multi-function touch panel and microphone on each earbud effortlessly
24H Playing Time & Enhanced by APP. PALOVUE wireless charging case keeps you and your iSound on the go, up to 24 hours of wireless playtime with the compact charging case. You can set the results of different times of touching the headset according to your preferences on the PALOVUE TWS APP, such as increasing or decreasing the volume, answering calls, etc. Plus you can set parameters on the equalizer to customize your own music and explore possibilities in the music world.
Be sure to click here to check them out. It will be a huge loss if you miss iSound, the best true wireless earbuds under 100 dollars which you can find at $49.99 on palovue.com.